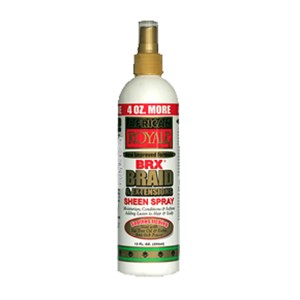 I use my own concoction to moisturize my braids, but staying with family I came across African Royale BRX Braid Sheen Spray, so I gave it a try. I have always wanted to use braid spray, but never got around to buying one, I don't wear braids too often, so I suppose that is why.
I sprayed my braids, and made sure to do the full length, and then sprayed my scalp.
It smells nice but literally 5 minutes later, my scalp was itching like crazy! I can't scratch my scalp, so I've been doing the 'Pat My Weave' dance. It does not itch as much since a few hours have passed, but I am quite disappointed. I had high hopes for this braid spray, especially since it was my first time using this product. I must be allergic to one of the ingredients, I am not sure which.
Ingredients:
Deionized Water , Glycerin , Propylene Glycol , PPG-12-PEG-50 Lanolin , Dicetyldimonium Chloride , Polyquaternium 32 & Paraffinum Liquidum , Tea Tree (Melaleuca Alternifolia) Leaf Oil , Polysorbate 80 , Oat (Avena Sativa) Kernel Extract , Allantoin , Silk Amino Acids , Sheep Sorrell , Yarrow , Slippery Elm Bark , Sage , Henna , Comfrey , Burdock Root , Goldenseal , Cherry Bark , Ginseng , Black Walnut , Chamomile , Alfalfa , Hyssop , Wheat Germ , Methyl & Propyl Paraben , Fragrance
The spray smells lovely, but I find that it dries very quickly, so I am not sure how moisturized my braids are. Either way, I cannot use it on my scalp. I am going to try to pay attention to the ingredients in this spray, to see if any other products I have contains any of the ingredients and see how my scalp reacts.
Sadly enough trial and error are the only way to see how well your hair will react to a product, luckily for me, I did not have to purchase this spraIy. So if you can try sample sizes, or travel sizes when trying a new product, I suggest doing so. It can save you some money!
.
As far as moisturizing goes, my hair does not feel any better or worse than it did before I sprayed them with this product, I cannot speak for my scalp, since I had an allergic reaction, so even with only one use, this product
did not
do it for me.
I guess I can give it a 2 out of 5, just because I like the way it smells!