Hey All!
I'm wondering if you all saw the cover of Oprah's current magazine issue. It is her of course, but did you guys see that hair?! I absolutely live for her hair on that issue!!! I'm not convinced it is all hers, but lord have mercy is it fierce! In case you didn't see it...
Now Oprah already has an impressive head of hair already,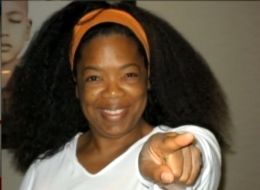 (Sorry Oprah, I know this isn't your best picture) but something about volume does it for me.
Oh, and did she, or did she not look great with Steadman on the red carpet?
More big hair. LOVE IT!!
I think Oprah had turned into one of my Hairspiratons y'all! (Lol)